Intelligently Manage Data at Scale with StorageMAP from Datadobi
With all data growing at a pace of 35% annually, and up to 90% of all data on an enterprise's network being unstructured, IT leaders are faced with a number of challenges. If these organizations wish to gain the most value from that data and become more operationally efficient, they must embrace intelligent data management technologies and practices, that's where StorageMAP comes in.
Download the full report to learn how StorageMAP can help organizations:
›

Gain visibility into the entire data storage estate via graphs and charts that show file counts and capacity consumed according to file size, count, and type.

›

Manage redundant, obsolete, and trivial (ROT), cold, and aging data on their networks.

›

Mitigate risks in terms of poor data security, regulatory non-compliance, inefficient operations, and more.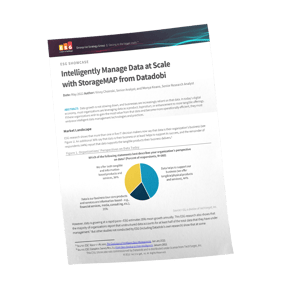 Fill out the form to download

th

e full report from ESG.