Unstructured Data Management with StorageMAP from Datadobi
The challenges associated with data growth and multiplication are creating a huge data deluge, inundating IT infrastructure with more complexity and cost. ESG research reveals that, as a result, over half of the organizations (55%) surveyed report that unstructured data makes up at least half of the data they have under management in total. Given the challenge of managing these data volumes at scale, the report recommends organizations must start deploying more efficient unstructured data management solutions.
Download the technical validation report to learn how StorageMAP can help organizations with:
› Data Discovery
› Data Organization
› Data Action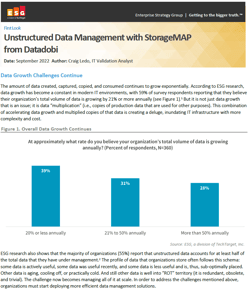 Fill out the form to download

th

e full report from ESG.